This has been the longest layoff I've ever had since I've been writing, and there is a reason for it. We lost our precious baby boy Phoenix recently, and our lives have been turned upside down. I realize this is a baseball card site, and understand the need to keep the content relevant, but I simply can't go silent for the first time I've posted in a while without saying something. I won't gush about it here, but for those of you who are interested, as part of my "self prescribed therapy" I've written everything that happened here. Prayers are definitely appreciated for me and my family.
So, as far as writing goes, like I said – it has been a loooong layoff. It has also been a long time since I've really dug into baseball cards. I still love Canseco cards, vintage, unopened wax, star junk wax stuff, and much more. But to be honest with you, much of my time has been devoted to creating customs, collecting Transformers, among a few other things. Perhaps I'll write another book … Confessions of a Transformer Addict? Ehhh, maybe not.
The pic below is but a sliver of the collection. How many Optimus Primes can you spot? Pictured below are several, with 9 of them being from a company called Newage. There are others not pictured as well, but it is fascinating to see how other collectibles have capitalized on "rainbowitis" – the disease among collectors that compels us to get the same dang thing in multiple colors.
The big daddy shown is the milky white looking one on the right – it is called a Lucky Draw – super duper rare.
Under the desk shows a bunch more I haven't really even messed with much.
Remember M.U.S.C.L.E. figures? Same with them, but they've been doing it since 1985. Pictured below is a true grail amongst collectors – THE PURPLE CLAW! It commands four figures. I sold one this past year for $1,300.
And here's the Claw Rainbow …
Wanna get much more rarer and costly? Meet the SHA – Spinning Head Ashuraman – this is my ultimate grail piece. When I first started looking for it, and putting out want ads, I had people legitimately laugh at me, and tell me to basically "get in line, rookie". Welp … I got one!
What's the point of having these pieces if you can't have a little fun?
Naturally, my fandoms have collided. It is a mess here, but a fun mess. I'm loving all of this!
Best weekend in 1989, ever.
Party like it's 1985!
The colors just work!
Tiny NES, or giant Claw?
Who copied who? Transformers Shockwave vs. MUSCLE rainbow of VTR Man (the only complete rainbow I have aside from the Claw rainbow, btw.)
Rawwwwrrrr
Bad kitty!
A while back, I ordered some custom acrylic cases for some wax boxes. I had an idea, and decided to dump some MUSCLE figures into them, and create a custom sticker for the front – "MUSCLE'Os". Here they are – mannn, I love em!
But let's get back to cardboard, shall we?
Back in 2019, I was super excited about Prizm. The multiple variations were awesome. They made one fatal flaw, though – they didn't include Canseco! I bought tons of different parallels of all kinds of guys I love. Nolan Ryan, Altuve, Clemens, Thomas, Pujols, etc. Eventually, I whittled it down to Frank Thomas and Albert Pujols, but ultimately sold off the Thomas partial run. It left me with one of my favorites: Albert Pujols!
I ended up finishing nearly all of the rainbow in 2019. The main one that gave me fits? The green retail. 2020 came and went. Nothing. 2021 came and went. Nothing. It wasn't until the last day of Albert Pujols' career in 2022 that I was able to lay my eyes on the first one ever listed (to my knowledge)! I grabbed it, and now my rainbow is complete! I may very likely sell at some point, but for now, I'm happy to have it. Oh, and by the way – I created several customs to enhance the rainbow while I waited for the green to pop up. Here they are all together, real and custom. They look AWESOME together!
Here's the 1 of 1 up close and personal …
Here are close ups of several of the customs I created in case you hadn't seen them yet:
Superfractor
The rainbow feels more "complete" with the superfractor custom created to complement the others, but I still wanted to do more. This unlocked the doors for me for a number of different types. I hereby dub thee: Starfractor!
Another WILD one was this old school blue atomic refractor version. Check it out! (Left without flash, right, with.)
BAM! Holographic Rainbow Fireworks!
Here is another one – I took some nice wavy foil material I had a sheet of, and made a cool red/orange/yellow gradient to make it appear like it was 3d fire. It looks great in the picture, but like the card above, it looks way better in hand!
How about a rainbow superfractor?
blue fire
Blue Old School Atomic
Holiday card!
Also, why not Valentines Day? LOL
Reusing the mojo material …
The black finite 1/1 from the factory is awesome … but so is this custom green finite!
Kryptonitefractor?!?!
When the green retail came in so I could finally complete the REAL rainbow, I decided to make one more custom. A glow in the dark version! This was because I love things that glow, and I have some MUSCLE and Transformer items that glow as well. Pictured below is a HUGE 6″ Glow in the Dark Claw, the Lucky Draw Optimus Prime (as mentioned above) and the custom Glow in the Dark 2019 Prizm Pujols. I think they look great together!
Here's a video showing what I mentioned above – https://youtu.be/aHvAdbhxDoQ
Still, I have crazy love for cardboard, and wanted to share with you several of my creations over this past year – some of the pieces I'm most proud of from 2022. It has been a tremendously welcomed distraction for me, and has allowed me to pour myself into as of late to escape reality.
THE BOOK OF BOGGS
To start off the year, I was commissioned to create this triple double booklet. I guess you could call it that? We wanted to do something wild, and I think I achieved it! The relics were taken from a game used hat.
(Yes, the stats on the back were corrected 🙂 )
Getting props from the man himself was the cherry on top!
Here's a video of it: https://www.youtube.com/watch?v=Bqg2zZ4lo-A
Someone commissioned me to do a jumbo of some guy named Tom Brady utilizing a replica jersey …
Derek Jeter JSA cut signature from an early 90s minor league baseball program!
A signed sweet spot style card of Dubya …
One of my favorite all-time pitchers, Walter Johnson made it my way earlier this year. It was a blank back, so the owner wanted me to have a fun faux back made for it, and embed it into a jumbo. Here's what I came up with for the Big Train!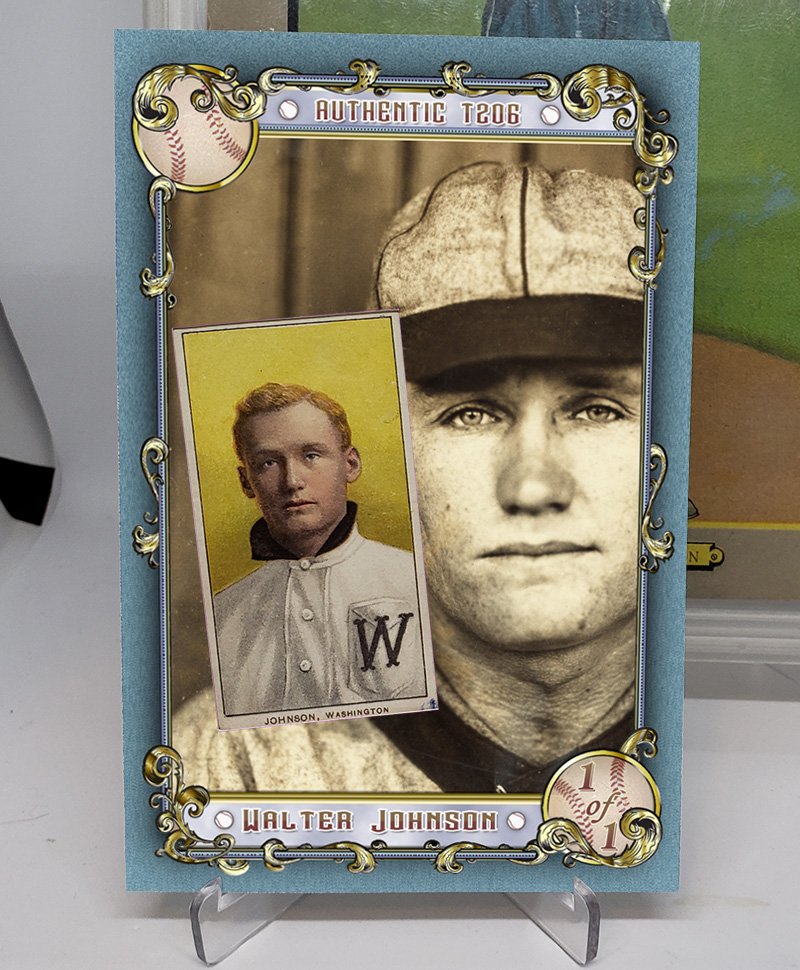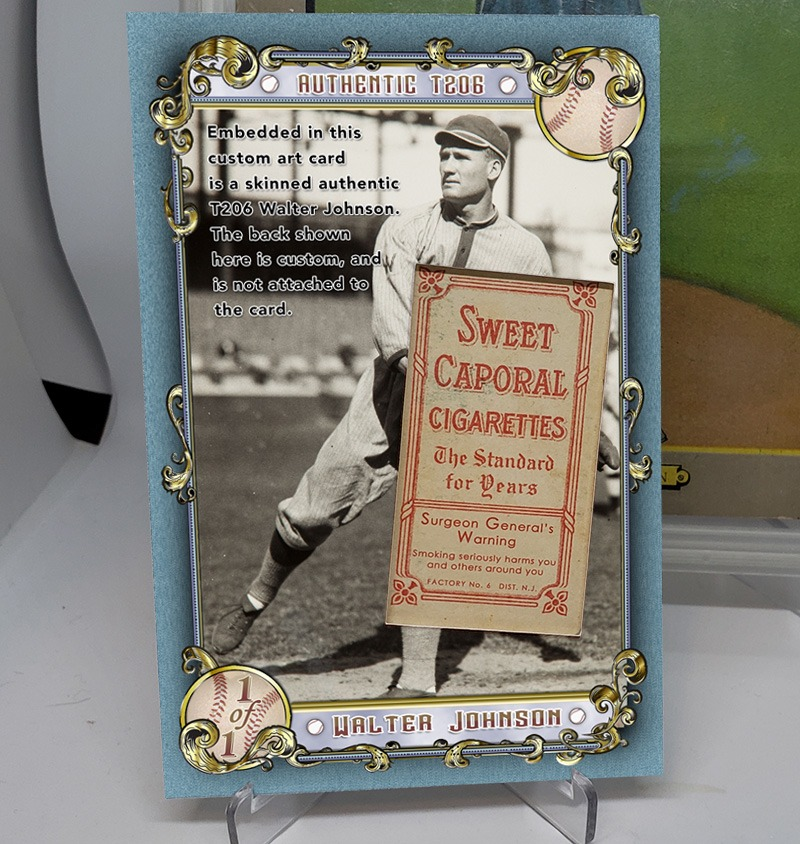 Moving on from the Big Train to Big Six, one of my other favorite all-time pitchers Christy Mathewson. This 1914 Cracker Jack PSA 5 sold for $312,000.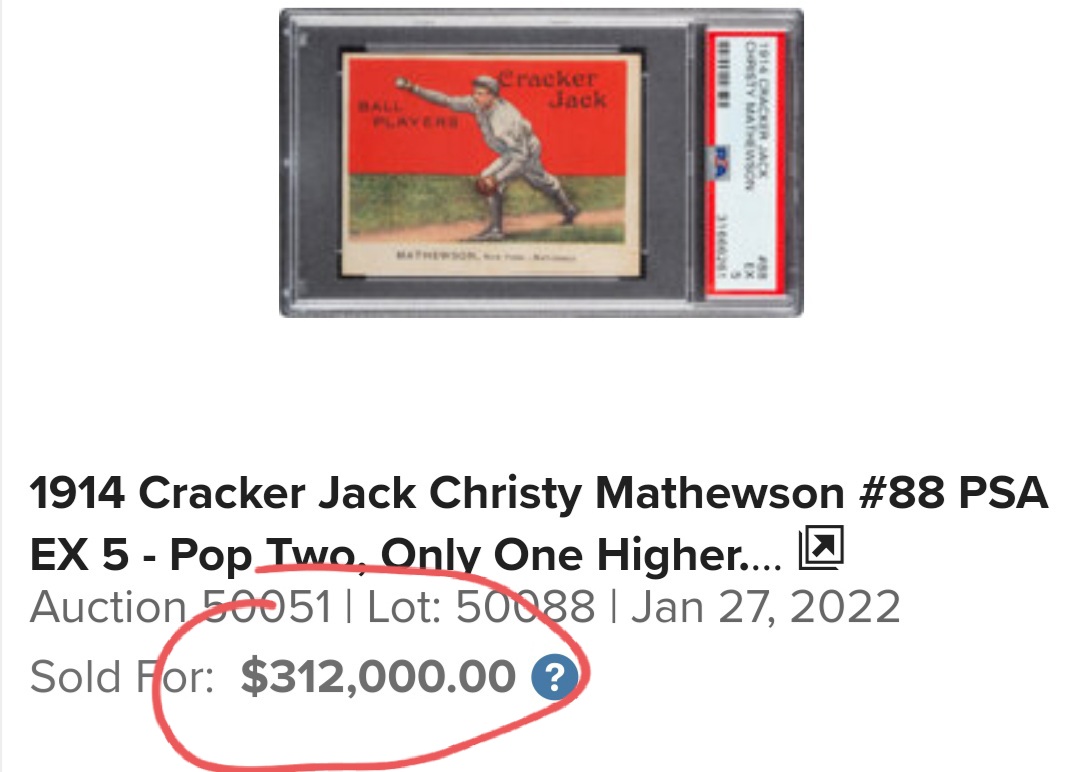 Someone ended up picking up an authentic cut out of the CJ Matty and sent it to me. I turned it into a "whole" card again for display purposes.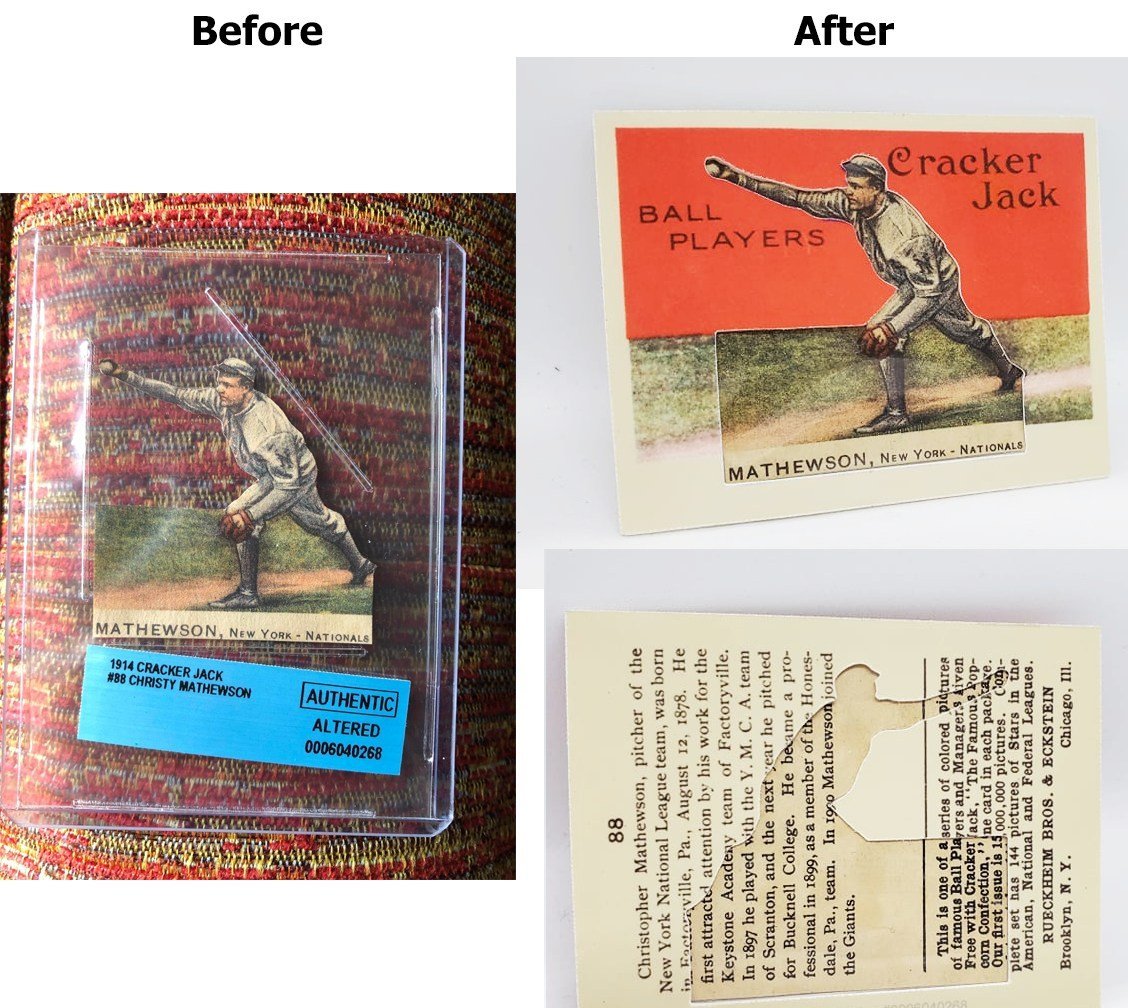 Video here: https://www.youtube.com/watch?v=d0g_pnfonPM
Staying in the "old" motif, I was able to track down a larger sized photograph that was developed off an original glass plate negative of an 1887 Old Judge baseball card – AND the card itself! It is super cool for a number of reasons – primarily because shows more of the photograph than the card does, and is larger, and clearer. Here's the card – which is the actual card that is used in the Old Judge book – the bible of Old Judge information and documentation! 33-3 – something about that number, I like and I can't quite put my finger on it 🙂
Here's the photo and card together. Super cool to see the blanket that he's on in the photograph that looks like dirt in the card. I'm in love with the backdrop, too.
The front and back of the holder I designed and created for it:
Sliding it in …
Holly suggested I create a frame for the card also. Here they are together!
Here's a video of me creating it: https://www.youtube.com/watch?v=0O_IwrAmILo
Ever hear of this guy before? If you like Ruth, stay tuned – I have a couple more to show.
Someone sent me a game-used bat barrel of Lance Berkman, along with several of his patch cards. Here is what I came up with!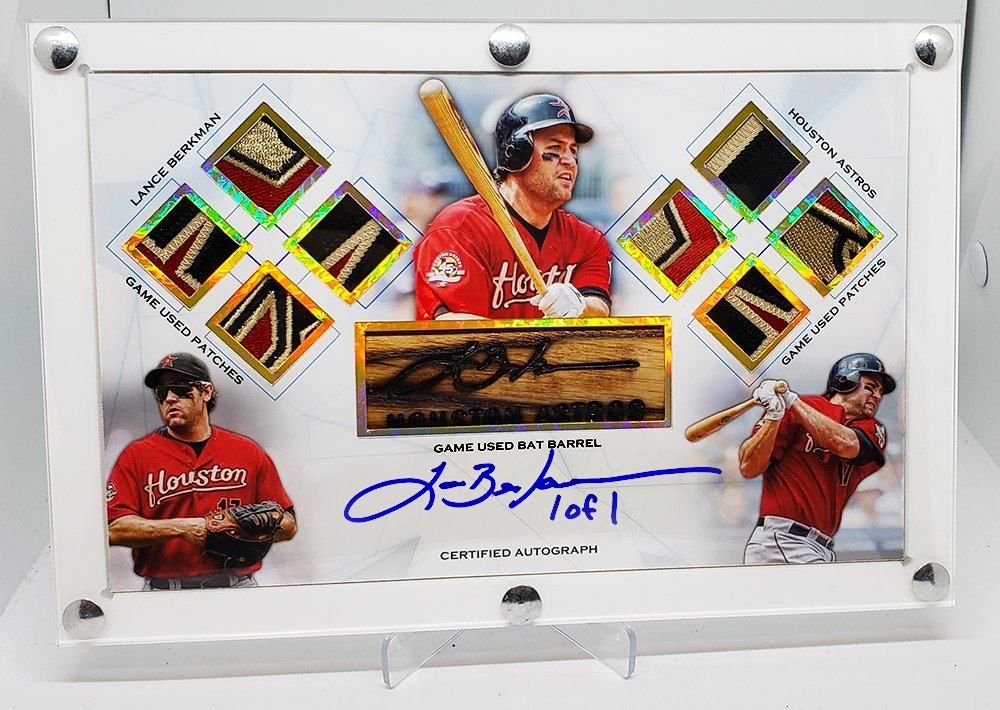 And here is Lance signing it …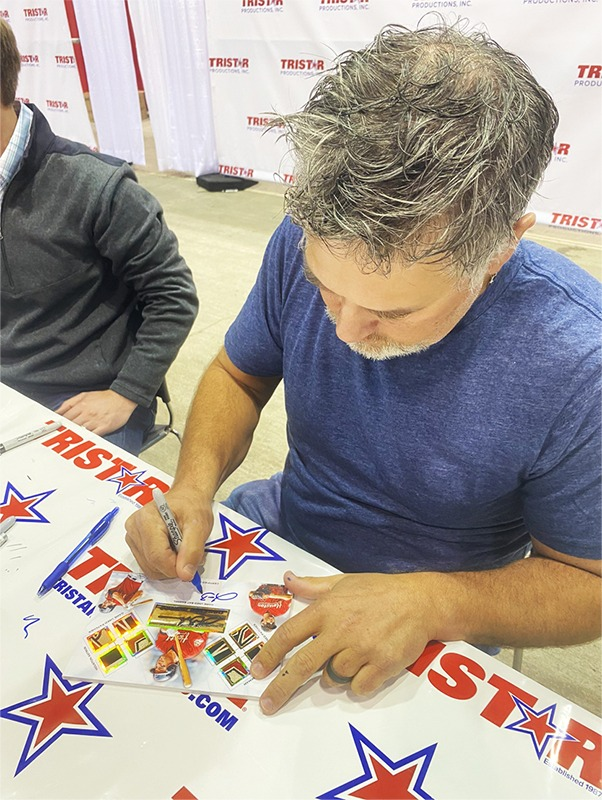 THE CANSECO BULLET CARD
One of my favorite stories is one involving my main man Jose Canseco. Years ago, he accidentally shot himself in the finger. A buddy of mine bought the actual gun, and sent some bullets from the gun to me so I could create some cards. I created some wood cards with a bullet encased in it, and Jose signed them!
I present to you: Warning Shot! LOVE How these came out!
Here's the video of Jose signing – he had some really nice things to say about me. It's always a good day when your childhood hero compliments you! https://www.youtube.com/watch?v=ZuBMkLl6t2E
Here's yet another old time pitcher I love … a jumbo cut signature of Satchel Paige showing an address as well!
ULTIMATE WARRIOR!!!
Here's a jumbo with 4 glow in the dark custom minis embedded. Darryl loves it!
Video here: https://youtu.be/ydqzvpc_Lxs
A buddy of mine reached out after he had Pacific founder Michael Cramer on his show. Michael knew Will was a huge Ripken fan, so he sent him a canister of left over game-used scraps. In the canister was a Ripken button! Will sent it to me, and I created this:
The piece I'm most proud of creating is far and away my Mystery Cabinet. It is the wildest custom, eva! I was planning on doing a part two, and eventually will hope to at some point, though not nearly as elaborate. Here are several pictures:
An actual snakeskin card!
An actual denim card … yeah … straight from a pair of old blue jeans!
X-Rayfractor!!!
The most insane patch booklet of Canseco, ever! It is a 9x jumbo patch triple booklet featuring all the teams Canseco signed with. All patches have been worn by Jose! The owner of Canseconet.com calls this piece "the greatest piece of Canseco memorabilia ever created."
Secret encoder card
There is a LOT more to this project, so I'll just stop there. You can read alllll about it here: https://tanmanbaseballfan.com/2022/05/youve-never-seen-a-baseball-card-like-this-before-mystery-cabinet-full-of-secrets-surprises.html
and see a video here: https://youtu.be/B1-HS4ha9YM
How about a custom booklet with a piece of the moon … AND it glows?!?
Video here! https://youtu.be/PTJgFNamknU
Sometimes I find myself wishing a card of my favorite player existed from a grail set. When that happens, sometimes I create my own!
One thing that was a huge hit for me over the past year were pet cards. LOTS of people ordered from me over the last holiday season. Let me put this plug out there now – if you want a card created of your pet or kid, hit me up – let's make it happen, cap'n!
PAWTOGRAPH!
Chew toys turned into cards …
Tennis ball cards
Yeah, even SUPER THICK cards
Triple pet cards!
Yup, even kid cards.
I love adding kids w/their favorite players!
Hit me up – let's make something for Christmas!
Here's a cut auto of Magic Johnson …
And of the Mick in the style of a Red Man Tobacco card – I loved this one, as it utilized the coupon portion to house the autograph.
Bohm Bohm Bohm Bohm Bohm! (sung in the way Tums commercials are sung)
Every year on Halloween, I pull out my custom Jose Frankenseco, and I've created a few enhancements over the years. This year, I went crazy, and did a sportflics style card that shows Jose go from Frankenseco to a skeleton. The bats in the background flap their wings, the colors at the top change, and the haunted house in the background changes colors. Oh, and it also glows in the dark!
Video here! https://www.youtube.com/watch?v=NUPm1b3kezU
I am in no way, shape, or form limited to sports cards. Here is a jumbo booklet of "It's a Wonderful Life". I LOVE how it came out!
Here's a video of the "It's a Wonderful Life" jumbo: https://www.youtube.com/watch?v=lV5VxK55ByI
Someone sent me a signed sweet spot that was already cut off of a baseball – it came from the co-founder of Upper Deck's collection. It was originally slated to be used in their Sweet Spot product decades ago. Instead, it found its way here to me:
Here's a video of the Ruth! https://www.youtube.com/watch?v=dm9r930abHw
While we're at it, here's another one of the Babe 🙂 This was from a JSA certified front cover of a 1934 World Series program that had been ripped off.
There are others I'm working on that I'm really excited about, but we've hit about 100 pictures in this article so far, so I suppose I'll call it a day 🙂 This year in customs has been really fun for my Canseco PC. While I haven't picked up a lot of new cards, I have been able to create several that no card company will ever make. Glow in the dark embedded minis, x-rayfractors, snakeskin cards, denim cards, secret message decoder cards, bullet cards, two foot long booklets, and tons more – it's very hard to feel like I've missed out on anything, so I guess that's a good thing!
With Christmas just around the corner, remember to hit me up if you would like something done for/of yourself or a family member/pet!