To say the first 24 hours after "going public" with the information has been a whirlwind would be an understatement. I ended up spending from Saturday evening all the way until late last night, fielding questions and taking orders.
Here is one of my favorite requests: ThoseBackPages wrote me saying he wanted to purchase my 1986 Donruss Highlights PSA 10, but on one condition. I had to sign it directly on the case. On the front. In green. Here it is!
Topps sketch artist Mike James reached out saying the following, which I got a kick out of: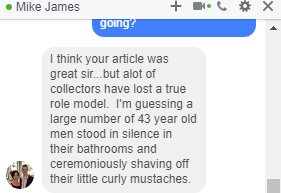 Out of all the hundreds of people that reached out to me over various platforms, it has been really positive and I've loved it. It is truly amazing at how many people are struggling with this "cardboard addiction" thing though. I am truly floored.
I have a LOT of work ahead of me today. Lots of things to pack up. It will be bittersweet. Bitter because I'm having to ship them out, but sweet because it'll be fun digging them out and enjoying them one last time.
While there are a large volume of pieces I need to pack up today, it was really only a drop in the bucket. I have TONS more to go! If I can get everything wrapped up before mail gets here, I'll take a pic of the packages just to further document the journey. Documenting is good therapy for me. Breathe, Tanner. Breathe.
It has been fun going through the day, getting messages, etc.  One tweet from Wade Boggs supercollector Richard said the following:
As the the self-appointed "Tanner" of Boggs supercollectors, a very sobering insight into the "dark side" of being all gung-ho about a collection. We all skate dangerously along that thin line. Tanner, ur a great guy, from one supercollector to the "best of all-time."
He took a few pics of his VERY impressive mancave with my mug on his big screen.  That was fun to see!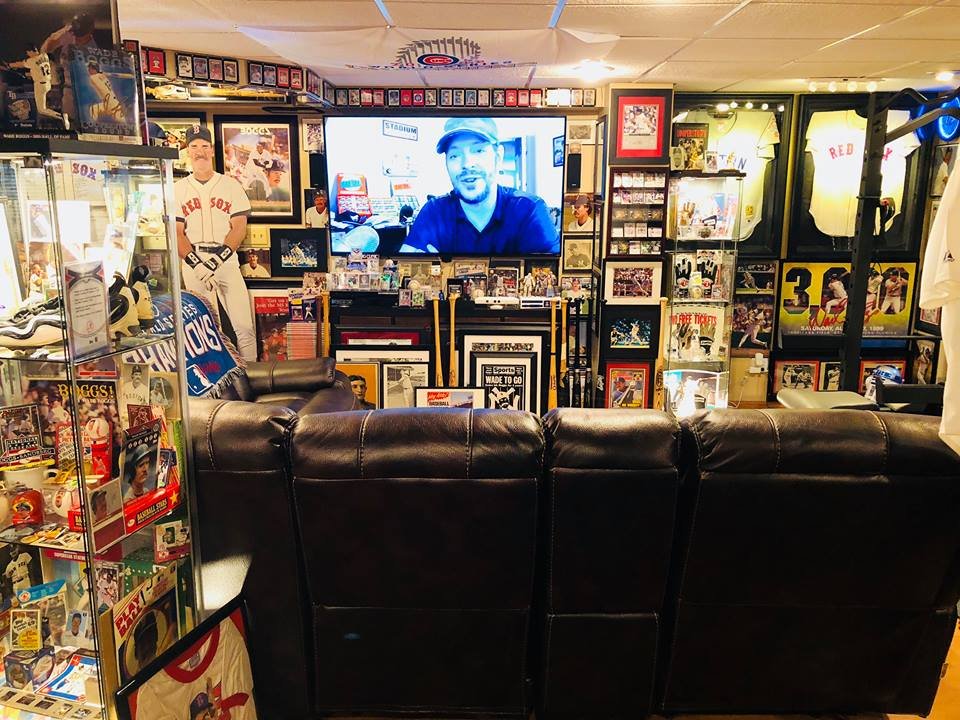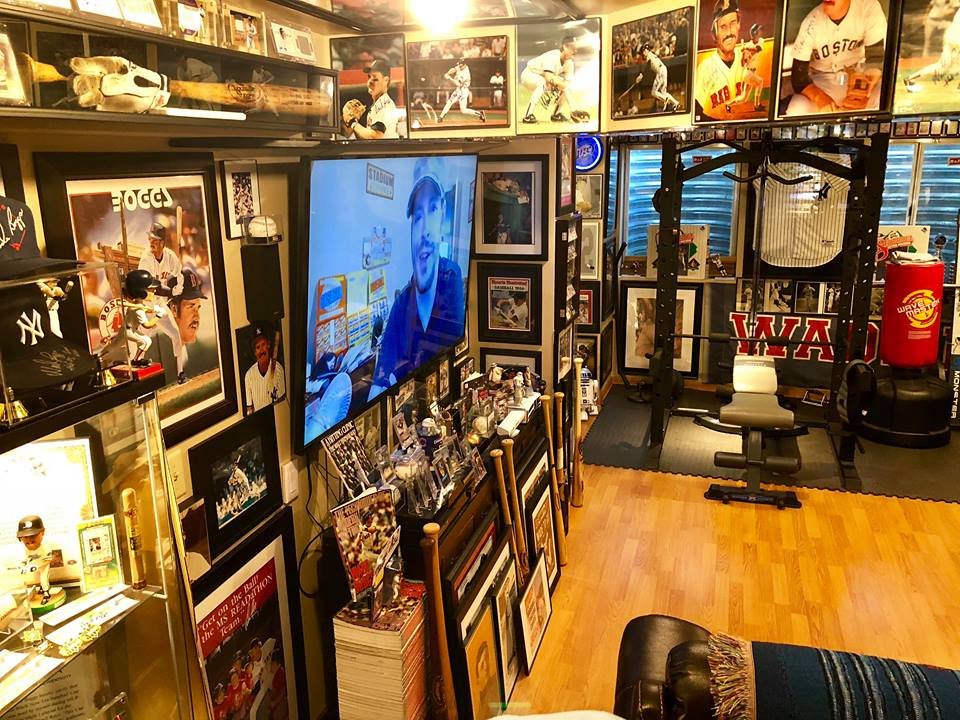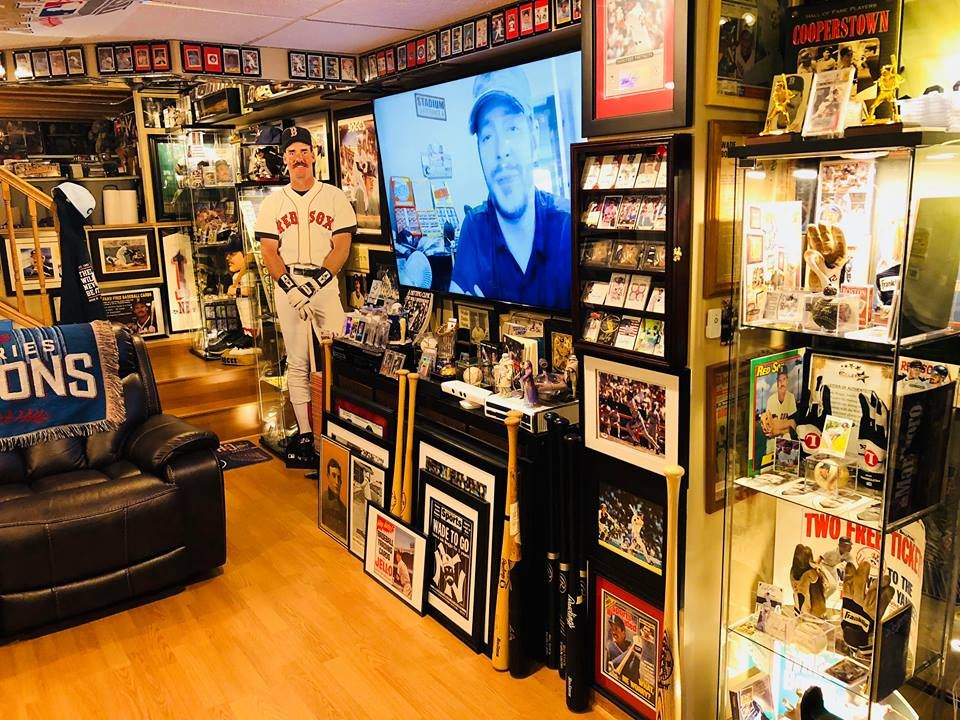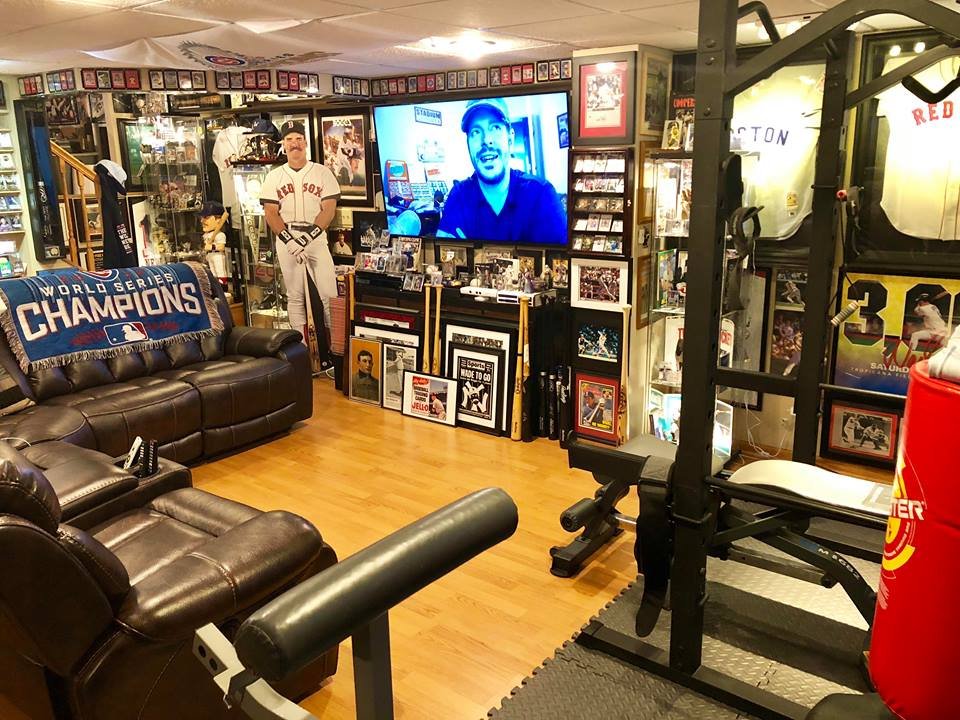 [LATER THAT DAY…]
So, this was a herculean undertaking and not even a drop in the bucket. This is insanity. Here is what a "reverse mailday" looks like. Believe me … NOT NEARLY as fun as a real mailday!
A lot of most excellent cards were picked up, many of which were a big deal to me when I was just starting to get into it. I've gotta say, it is super fun getting some of these cards out into other people's collections!
The heart breaker of the day is seeing this go:
So long, my first bat barrel – you will be missed! *sniffle
So, a few cool things that I learned about today:
– 3 people wrote blogs about this already
– I did a video interview with Radicards which should be going live at some point.
– A Houston area news anchor reached out to me asking me to tell him when the book is launched because he'd like to do a story on me!
While all day was FILLED with pulling cards, shipping, etc. and has been exhausting, I have to say – it has been truly good! I'm thankful 🙂
On my way to the post office!