This past month, Mrs. Mouschi and I celebrated 16 years of wedded bliss.  We have been together 18 years and are rapidly approaching that magical time when we will have known each other longer than we haven't.  I still remember her loving words to me many years ago:
"Sometimes I wish I were you, so I could be married to such a wonderful person like me."  She is so eloquent!
Work has really had me burning the candle at both ends, so for the big 16…we hit Denny's.
And we got this:
Yes, friends.  This tall glass of water came with a complimentary waitress hair.  Definitely a far cry from a sunset walk on the beach that I should have taken my beautiful bride on.  In my youth, I would have fought tooth and nail to raise a stink to get the entire meal free, and then another the week later (boy, do I have stories).  But nowadays, I find myself more compassionate.  I know what it is like to deal with customers day in and day out.  So instead of griping, I politely ask for another water while taking a picture of the offending beverage to write about it.
That, and I don't want them spitting in my burger.
At the moment, I have 8 web projects.  While I'm thankful for the work, it doesn't afford me much time to conjure up any fun customs.  I did get a wild hair to try my hand at a sketch card one evening after everyone was in bed.
It didn't turn out so well.
I promise it was so, so, SO much better before I took a sharpie to it, but sadly #22 ended up looking like that laughing cartoon of Yao Ming.   I am now determined to put more than 15 minutes into a sketch project and make something good … when I get time, that is!
I was able to put together a fun "parade used" Warriors card featuring some confetti from the parade.
A fun work crossover recently happened when I did a deal for a Triple Threads 1/1, and as it turned out, the guy was actually a business owner.  He found out I was a web developer and loved my work!  It is always great to have a deal for baseball cards turn into a decent sized work project!
Here is a pic of the card ever so artfully displayed atop a screenshot of the website I built for the client (of which he has received rave reviews for, by the way!)
Still, with work keeping me so busy, I find myself diving into other mini projects to keep me sane.
Like turning my Simpsons alter-ego into a Mike Tyson's Punch Out character to serve as a wanted graphic:
I definitely had to do something to commemorate a HUGE thing that happened recently:  The return of the McRib.
To commemorate such a momentous occasion, I posted an ad stating that if someone bought me a McRib, I would eat it on Youtube for them, and hilarity ensued.  Check it out!
The back & forth with these strangers alone was worth it!
But I digress.  In spite of all of the craziness, we decided to pack up & take the entire week of Thanksgiving to go to Florida.  The last time we took a big vacation, it was to see a certain steroid aficionado, which was two years ago near the left coast.  While we were there, we ended up going to Legoland in California.  Here is a pic of my overjoyed wife and son entering the park in 2015:
My boy was probably all of 5 foot 4 inches back then.  Now, he is closer to 6'4 in 2017.  Gosh how I love so much that he still enjoys Legos!
The way we do vacations in our family is driving.  A lot of driving.  This trip was over 2,000 miles total, so that means a LOT of staring at this.  For hours, and hours and hours.
I have a very good wife who split the driving with me.  This allowed me to stay sane and keep my eyes peeled for the latest release: 2017 Leaf Q.  I understand that in many people's eyes, Leaf takes a back seat to Panini, who takes a back seat to Topps.  I was particularly interested in this year's release because I had received some pictures from a friend as a sneak peek of what was to come.  How cool is that?  (Leaf also posted some teaser photos prior to the release.)
The one picture that REALLY dropped my jaw to the ground was this one…before being signed!
Over the past couple of years, you could expect beautiful cards from Topps – with plain jersey or bat pieces.  You could also expect beautiful cards from Panini with *very small* patches.
This card blows every other patch card made over the past couple of years completely out of the water of Jose.  So needless to say, I have been paying close attention to listings for this card to be pulled.   The problem in setting your sights on ONE card (this card in particular) is you may have to wait for perhaps 350 cases to be busted (equating to 1,400 boxes) and then hope the person who pulls it doesn't decide to keep it…that is, even if all boxes are opened!  A true needle in a haystack.
I was unsure what year it was to be released initially.  The front of the card looked like it either said 2015 or 2018.  I asked Brian Gray and he told me it was for the 2017 release.  The front does truly say 2015, and the checklist calls it a 2015 flashback.  This actually solves a mystery for me – I have 3 of the 4 printing plates for this card: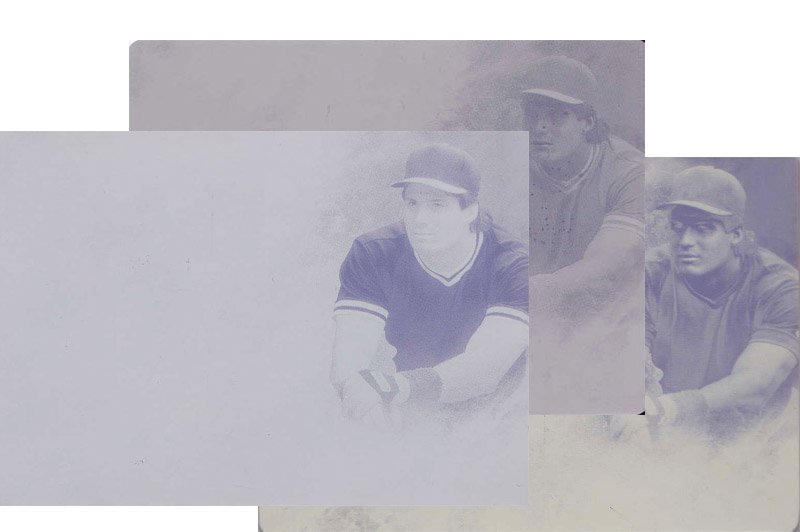 Until now, I had ZERO idea what they were from.
When I wasn't driving and thinking about the card, I was on my phone in the passenger seat trying to see what Leaf Q Canseco cards had been listed.  Thankfully, I had several people reach out to me with them.  Here are a few!
This card is BEAUTIFUL, but is not equipped with an exciting game used piece.  It is a gorgeous card itself, however.  Thanks to the preview pics, I knew what this was going to be.  It is still incoming, but it is the card on top of the pile below to the right of my childhood hero's arm, waiting to be signed.
I knew that Leaf was going to be coming out with cards without pictures, and I wasn't sure if I was going to go after them if Jose was in the set.  When I first saw that they were, I was both confused and excited.
I really don't like that they didn't use a picture of Jose.  I also don't like that they used a picture of an A's jersey for it.  Now, with that said:  The foil is BEAUTIFULLY done and the patches are SIIIIICK.  Not only that, but these are Jose's first no jumbo patch cards not from an Athletics jersey.  Not made by me, that is 🙂
Here are a few pics of Leaf's handiwork:
LOOOOOVE the gratuitous usage of holofoil.
The gold holofoil looks even nicer!
This one JUST came in today.  A few days ago, it was noted as having been delivered to a town an hour away.  I was worried I had missed it.  Such a cool card – it has the A from "Athletics".
I LOVE logo patch cards!
But I may love nasty, loopy multi color patch cards more…I dunno!
Leaf truly has impressed me with this Flashback 2015 set.  I still need some other 2017 Leaf Q Canseco cards, so if you have any or know of any that were pulled, please let me know!
Back to driving.
After switching drivers late at night, my phone started buzzing.  I received a text regarding a card I have been trying to get for MONTHS.  The 2017 Topps Clearly Authentic Gold 1/1 Red Ink Autograph.  The regular version of this card is gorgeous and limited to just 135 copies.
This card is insanely cool for a number of reasons.  It is a reprint of Jose's first ever Topps card, and it was done on clear acetate.  Basically, they took the first Topps card, applied Hi Tek technology to it, had Canseco sign it and then slab it.
When I received a text late at night after finishing my driving duties, I was able to secure the best card in the entire set!  (To me, that is!)   I'm not going to lie – this was easily the most difficult negotiation process I've ever been a part of and was millimeters from walking away from the card forever, but thankfully things worked out and I'm glad I finally got it.  Take a look at what the previous owner had to say in the listing description:
These are so incredibly difficult to photograph while showing how beautiful they are.  10 points to the person who can guess what the Clearly Canseco is leaning up against.
We finally crashed at a hotel, slept and drove more until we hit Legoland.  We decided to stay at the Legoland beach resort down the street, and I have to say – not only was it the best place I've ever stayed; it was my favorite part of the trip!  Everything looked like it was built with huge legos.
This is the front of our bungalo (or bungalego?)
This is a pretty big deal for us.  We don't typically stay in hotels this fun/nice.  This mattress shown below in a hotel we stayed at a few days later tells the story.  Blech!
Perhaps one of the other reasons I liked the Legoland resort so much also was the breakfast.
Legoland was no doubt fun – but much hotter than I had expected a Thanksgiving Eve to be.  We were sweating out there.  The rides were a blast.  The small fortune they charge to sell you a picture of yourself enjoying one of them?  Not so much.  I think a quick pic from my phone will suffice.
After walking around for a while, we decided it was time for ….
APPLE FRIES!
They are different from the California ones, but very good.
It was around this time, that I had checked my phone to find a card listed.  THE card listed.  The one I've been dreaming about.  After several minutes, I was able to make a deal for it there at the park!  I have now officially bought more baseball cards while at Legoland this year than at baseball cards shows.
The patch is easily my favorite patch card for Canseco in the past couple years.  It is ironic that what makes this card so special is the fact that it utilizes a massive patch of the A's LOGO on a card that is not allowed to depict team logos!  It makes the airbrushing of logos on the hat and jersey irrelephant (Get it?  The A's logo is on an elephant.)  Along with the Clearly Authentic 1/1, I think this card just made its way into the top 10-15 of my collection…and my heart.  (I'm fairly certain this card was on my mind more times than not when drifting off to sleep over the few days leading up the capture of it!)  Here is a pic of my other favorite Canseco patch card.  I never thought I'd say a Leaf card would rival my excitement of a Topps Dynasty card!
All good things must come to an end, and so did our trip to Legoland.  We made plans to spend Thanksgiving dinner with TONS of loud people.  "What's the difference between this Thanksgiving and any other Thanksgiving?" you may ask (bah dum dum chhhh).  We decided to spend it at Medieval Times!
This was definitely my son's favorite part of the trip.  He LOVES that time period.  Plus, eating with our hands while yelling at the top of our lungs during a good old fashioned joust?  What's not to like?!
I tried to take a pic of the food and wanted to show the horses in the background, but it didn't turn out so well.
So I photoshopped them together 🙂
The next day, we had to begin the long trek home, but not before stopping at the beach at Destin.  Man, let me tell you … Galveston's got NOTHING on Destin!  I mean … the water is like … clear … and the sand isn't gravel.  The sand squeaks, people!  It freaking squeaks!
We had fun, even though a wedding party tried to photo bomb us apparently!
While it may have been a bit late for our anniversary, we finally did get to enjoy our sunset walk on the beach.
While cards are fun and all, they can simply never replace the memories I made with my two favorite people in the world.  Because baseball card collecting is such a big part of my life though, I'm happy to be able to attach such good memories to my latest pickups.
That does it for this rather eclectic collection of words and pictures.  Thanks for reading!
(Must…resist…urge to photoshop in a 1/1 on the sunset photo!)